News Archive: 2021 • 2020 • 2019 • 2018 • 2017 • 2016 • 2015 • 2014 • 2013 • 2012 • 2011 • 2010 • 2009 • 2008 • 2007 • 2006 • 2005 • 2004 • 2003
This post comes courtesy of Senior Issues Editor The Free Joy State.
Hey, guys, gals and non-binary people!
After many countless player hours spent slaving over drafts, lengthy dance battles in the Editing Room and the collapse of several coding hamsters, the votes are cast and we are pleased to announce the top ten issues from the sixth issues contest:
Here they are in authorial alphabetical order:
Please join with the team in congratulating the authors of our Top Ten issues! Look out for them starting to appear in the game in the near future.
This post comes courtesy of Development Manager Sedgistan.
Following on from the introduction of Development Managers, we have our second* new feature - the Security Council has gained the ability to pass Declaration resolutions.
Declarations are an opportunity to express an opinion on international affairs and obligations. What does that actually do? Well the answer is "not much" in terms of in-game effects.
But nonetheless there is a lot that can be done with a Declaration; you should never underestimate the strongly-worded letter of protest. Topics covered could range from commentary on the political situation in The South Pacific to a set of standards on the conduct of ambassadors, congratulations to Turori for their recent triumph in the 88th Football World Cup, or a call for a ceasefire in the Second Insaani Civil War.
It's up to you: make your Declaration now in the Security Council.
*If you're wondering what the first was, the Boneyard now links to a nation's Trading Cards.
A special behind-the-scenes look at NationStates:
So hey, I'm doing some online events. Come along and join me, if you want!
All this is because my new novel is out today. That's right! I'm still writing books! And you can support my career choice by buying them!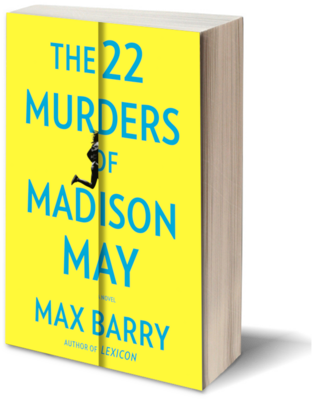 The 22 Murders of Madison May by Max Barry

IF AT FIRST YOU DON'T SUCCEED...

"Mind-bending novel of the mid-year" —Chicago Tribune

OUT RIGHT NOW








maxbarry.com • The 22 Murders of Madison May • Reviews • International
Since the beginning, NationStates has worked under a software development model I like to call, "Excite the admin." That is, when someone notices something that needs fixing, or has an idea for a new feature, they have to hunt down an admin and get them excited about it. If they're successful, the admin codes something; otherwise, they don't.
This is an excellent model in the sense that it lets admin do whatever they want. This is important when your admins are volunteers. But as NationStates has grown and its communities have multiplied, it's become impossible for admins to stay across what's happening all over the site, and make informed decisions about what to work on.
Therefore we've created six new Development Manager roles. These people will act as the community conduit to the mod/admin team, taking on the primary responsibility for prioritizing code fixes and new projects with admin for their area.
Communications (including Forums, Telegrams, Regional Message Boards, and Dispatches)

Issues

Regional Gameplay (including the Security Council)

General Assembly

Trading Cards

Moderation
These roles align more to technical feature sets than communities. For example, there's a large number of roleplay-based communities with varying needs and priorities, but they're all heavily invested in and affected by the site's communications tools.
We don't expect this to unlock a slew of new features, because we still have the same number of admins. But hopefully this provides a better pathway for getting things done.
The World Census, the world's leading international bureau of testing and measurement, is pleased to announce the latest series of additions and modifications!
New Scales
Patriotism

All citizens love their nations, of course. If they have democracy, they love that. If they don't, they appreciate the firm leadership. Every nation is great, in the eyes of its citizens. Still, some are more fervent about their love of country than others, and the World Census is now tracking exactly how disturbingly fervent it is.

Food Quality

Ah, cuisine. Is there really a way to quantify such a delicate, personal slice of the human experience? Yes, there is. And the World Census has done it. Nations are now ranked on exactly how delicious their food is, according to indisputible science.
Modified Scales
Tourism

The World Census made a long-awaited adjustment to acknowledge the reality that modern-day tourists want less unspoiled environments and more assurance that they won't be stabbed between the airport and their hotel.

Civil Rights

The World Census no longer considers "freedom to commit crime" as a civil right. This is the result of a long debate, during which it became clear that nobody was quite sure what "freedom to commit crime" meant.
This post comes courtesy of Senior Issues Editor The Free Joy State.
The Issues Team know that every corner of NationStates is bursting with people who are full of interesting and entertaining ideas. Now, your chance to show us your stuff is an annual event.
We are very excited to announce our "One Chance Only Issues Contest". The top ten finalists will be featured in a News post, immortalising your name (think of the bragging rights), and will guarantee your submission will get into the game. These contests can also help us spot potential future editors -- so, if you want to show us what you can do, there's no better time.
There's one entry per player, so if you've got a (non-pandemic related) idea you can't wait to get down, we strongly urge you to draft on Got Issues?. For tips and advice, see Got Issues? and check out our issues-writing resource.
Please submit your issue between June 1st and June 30th by the usual method. Make sure you are fully happy with your submission and that you check the box to confirm you are entering it into the Issues Contest.
Please see this thread for full information. Good luck.
You might notice your region is looking a little spiffier than usual. If so, that's because your regional officers have discovered new customization options, including the ability to upload a regional banner. They're also probably all like, "Huh, I can actually preview changes first before making them live. That's not bad." And they're right. It is not bad.
If there's one thing I learned from this experience, it's: Wow, there really are a lot of nations. It's one thing to know there are a quarter of a million, but it's another to click through them one randomly-generated pair at a time.
Congratulations to objectively the Best Nation In the World! It is:

The Serenýsima Rep¨blica of Farnhamia
Over the 28 hours of the event, 829,257 votes were cast, so you know it's correct. Thanks to everyone who participated: I hope it was a mildly interesting journey through the breadth and depth of nations we have here on NationStates, many of whom are not faceless card-farming puppets, and which you might otherwise never see.
Thank you also to everyone who has made an interesting nation. There is a lot of hidden depth here because of people like you, which deserves to be acknowledged and elevated.
For a long time, people have wanted to know how good their nation is. They have turned to us, and we have said, "What is 'good,' anyway? A strong economy? Kind citizenry? Rich culture? An effective military? You can't boil down a whole nation to a single variable. That's why we have so many World Census ranking scales." And they have nodded and thanked us for nothing.
So let's fix that! Today, for the next 28 hours only, we will answer the question: Which is the Best Nation in the World?
Start Here: Best Nation in the World
It's simple: You get shown two nations and you click the one you think is best. Repeat. After a few hundred thousand votes, we'll start getting somewhere.
Wondering how great your nation is? Your nation page shows how you're doing in the eyes of the world. And, of course, there are leaderboards.
We have a little scheduled downtime coming up, in order to perform some server upgrades. I know, I know; nobody has downtime any more in today's fast-moving cloud environment with microservices and hot failovers and whatnot. But NationStates doesn't have those, because it's still running on a PC I have underneath my desk. Not really. That was a joke. Mostly.
Both gameside and the forum will be unavailable for about three hours starting 10:45pm Thursday Wednesday Pacific Time (after the major daily update).